To Order:
or
For Information:
Contact:
S. Morton & Associates
PO Box 3322
Kilgore, TX 75663
(903)987-1199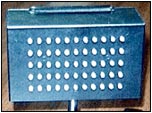 The EX-PS1 Emitter/Slave is a unique member of the popularAudex® family of 95KHz broad band transmitters. Featuring 55, eighty degree high power diodes, this emitter produces a broad pattern well suited to small meeting rooms, courtrooms, classrooms, movie theaters, and in a daisy chained system that requires extra light to cover balconies, alcoves, and other odd shaped areas. Mounted at a height of 10' to 20', the coverage pattern resembles a flattened top, covering an area of up to 2,500 square feet. Using theAudex® COC circuit, this unit emits with 92% efficiency, insuring maximum coverage for all applications. The circuit adjusts diode drive levels due to varying ambient temperatures. In conjunction with the other members of the EX series of infrared emitters and the REC-T3 neckloop receiver,Audex® is able to offer cost effective infrared performance even out of doors in daylight. Since theAudex® LightLink REC-T3 receiver is resistant to electronic ballast lighting interference, all of the advantages of 95KHz broadband technology is available with this emitter system for courts, universities, and other government facilities.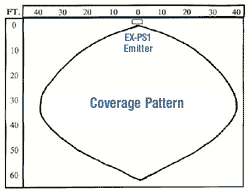 Powered by aAudex® EX-B-3 Base, EX-BEX-6 Expansion, or one of the stand-alone EX series emitters, up to three of these small repeaters can be Daisy-chained using the XLR input and output expansion jacks on the back of the unit. This three conductor line carries both signal and low voltage DC power, eliminating the need for an AC outlet at the repeater location. Five red LED's located in the bottom louver provide a quick visual check for diode performance.
Using the threaded nut located on the back of the unit, it can be mounted on wall or ceiling with a special Omni-Mount Bracket. This bracket allows for rotation in two planes and can be mounted by one installer. Installation is quick, easy and efficient.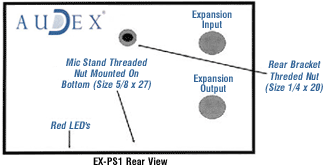 Perfect for under balconies, small alcoves, remote location, and when extra fill lighting is needed, the EX-PS1 is priced to keep costs to a minimum. When aesthetics are important, this unit can be custom colored to blend with the decor. Although up to three EX-PS1 emitters can be daisy-chained from one output port, it is recommended that they be placed at the end of the string. This insures that no more than 165 diodes are attached to any one 24VAC, 2 amp transformer.

With these features, no other brand of infrared emitter can offer anything close to the cost effectiveness of this family of products!


Physical Features

Weight: 1 lb
Dimensions: 7.5"w x 4.5"h x 3"d
Freq. Resp: 100-20KHz
THD: Typically<2%
Diodes: 55 eighty degree@940nM
Diode Life: >100,000hrs
Expansion Input (one): Receives signal and power through one XLR port.
Expansion Output (one): Sends signal and power, or signal only through one XLR port.
Power Source: Low Voltage DC supplied by "EX" series base or emitter

Functions

Carrier Frequency: 95kHz supplied by EX-B-3, EX-BEX-6, or EX series emitter
Cables: three-conductor 18ga speaker wire with XLR plugs for each input and output.
Coverage: Up to 2,500 sq. Ft

Five Year Limited Warranty

$394.90