To Order:
or
For Information:
Contact:
S. Morton & Associates
PO Box 3322
Kilgore, TX 75663
(903)987-1199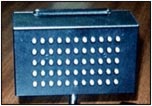 The SA-PS1-U2 Master Emitter is a unique member of the popular Audex® family of 95KHz broad band transmitters. Featuring 55, eighty degree high power diodes, this emitter produces a broad pattern well suited to small meeting rooms, courtrooms, classrooms, movie theaters, and as a portable system for anyone presenting lectures or seminars. Mounted at a height of 8' to 10', the coverage pattern resembles a flattened top, covering an area of up to 2,500 square feet. Mounted on a podium or speaker floor stand it will effectively serve a room up to 40'x50'. Using the Audex® COC circuit, this unit emits with 92% efficiency, insuring maximum coverage for all applications. The circuit adjusts diode drive levels due to varying ambient temperatures. Since the Audex® LighthLink REC-T3 receiver is resistant to electronic ballast lighting interference, all of the advantages of 95KHz broadband technology is available with this emitter system for courts, universities, and other government facilities.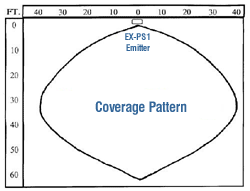 Since this emitter is a master system, it provides a choice of direct input of up to two electret microphones, one line level input, or one speaker level input. A choice of voice quality, directional microphones featuring a 5 to 20 foot cable, or a PSA-MIC1, mini-mic that plugs directly into the back of the unit, are available. The mini-mic allows the speaker to stand within four feet of the back of the unit and lecture, eliminating the need to wear a microphone. These features combined with the reasonable cost, make the "Rattler" a perfect choice for portable infrared applications. Mounted on a podium, the five red LED's are located on top, making them easy to see by the speaker. When mounted on the wall, they are located in the bottom louver providing a quick visual check for diode performance. Using the threaded nut located on the back of the unit, it can be mounted on wall or ceiling with a special Omni-Mount Bracket. This bracket allows for rotation in two planes and can be mounted by one installer. Installation is quick, easy and efficient.



When aesthetics are important, this unit can be custom colored to blend with the decor. A single 24VAC, UL/CSA approved wall transformer powers the system.



Physical Features

Weight: 1.2 lbs.
Dimensions: 7.5"w x 4.5"h x 3"d
Freq. Resp: 100-20KHz
THD: Typically<2%
Diodes: 55 eighty degree@940nM
Diode Life: >100,000hrs
Replaceable Fuse: 2 Amp AGC type
Power Source: 24V, 50VA UL/CSA Listed Wall Transformer

Inputs/Outputs

Auxiliary: 0 dBm Operational from - 200 mV to 5 V peak-to-peak
Microphones (up to two): 2000 Ohm unbalanced ¼" jack for Electret mics
Speaker Level: 100 to 300 Watt, screw terminal type connections
Adjustability: AGC Circuit automatically adjusts microphone sensitivity

Functions

Carrier Frequency: 95kHz
Coverage: Up to 2,000 sq. ft

Five Year Limited Warranty

$547.80